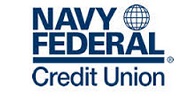 Navy Federal Credit Union
Navy Federal Credit Union Loans
Navy Federal offers consumer lending products that include home mortgages, home equity loans, auto loans (new, used or refinance), Student Loans (private student financing and consolidate existing loans) and personal loans.
Navy Federal Credit Union Loan Interest Rates
Navy Federal Credit Union Discussion
Q: what is Navy Federal's regular checking account protocol?

Q: What is your interest rate on savings accounts in excess of $10k?
Navy Federal Credit Union Discussion Activity