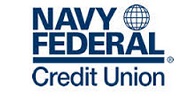 Navy Federal Credit Union
Navy Federal Credit Union Home Loans
NFCU provides mortgage loan products for those looking to purchase or refinance a property with its range including fixed rate mortgages with 15yr and 30yr terms and ARM loans. In addition they also have military mortgage offerings as well as VA and FHA mortgages. Other products include interest only home loans, second home mortgages and investment property home loans.
Navy Federal Credit Union Home Loan Interest Rates
Navy Federal Credit Union Discussion
Q: what is Navy Federal's regular checking account protocol?

Q: What is your interest rate on savings accounts in excess of $10k?
Navy Federal Credit Union Discussion Activity