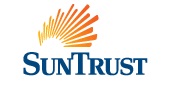 Suntrust Bank
Suntrust Bank Credit Cards
Suntrust provides Mastercard credit products including cash rewards and travel rewards
Suntrust Bank Credit Card Interest Rates
Suntrust Bank Reviews
Good personal service, longtime staff in my branch.

Every other bank has their rates for savings and money market on their websites. By not being honest and showing rates on your site, you look like you are trying to hide something. I will avoid doing business with a bank that feels they have to HIDE their rates.

I do not like SunTrust Bank, I moved here from Indiana and did not have to pay for my checks. Then When I sold my house in IN and deposited my check for it, I was harassed every time I went to the bank about what they could do with my money. I already knew what I was going to do with my money. I already had a financial advisor and didn't need their help. If I didn't have my bills taken out of my checking account and it wasn't so much trouble I would definitely change banks. I am 80 years old and I don't need the hassle.
Suntrust Bank Reviews

Lost Trust with Suntrust! I arranged with Suntrust to transfer my IRA to their office. 3 months later I find out the person who I arranged the transfer with was no longer there and even though he told me he had the transfer check a week after we first met, it was never completed and now the check was lost. Also he offered me a rate that was not available to a deposit of my dollar amount. Also would not give any compensation for 3 months lost interest.