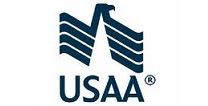 USAA
USAA
USAA (United Services Automobile Association) is a financial services company in the United States that provides insurance, banking and investment products and services. For its banking products it is available for both the U.S. military and their families as well non military individuals.
USAA began in 1922 and operates two FDIC member banks, the USAA Federal Savings Bank for certificates of deposit and savings account related products as well the USAA Savings Bank for credit card products.
Distribution channels for USAA include participating UPS stores nationwide to deposit checks, ATMs, telephone, its website as well as its mobile banking platform and applications.
USAA also offers financial centers for its banking services in the following locations: Annapolis (Maryland), Arlington (Virginia), Colorado Springs, (Colorado), Fayetteville (North Carolina) , Highland Falls (West Point), N.Y., Killeen (Texas) , Oceanside (California) , San Antonio(Texas) and San Diego, California
As well as traditional banking products, USAA provides savings and investment products for its customers. These products include checking accounts, savings accounts and various cd products. These CD products including variable rate cds, adjustable rate cds and fixed rate cds.
Source: www.usaa.com
USAA Services
Personal Banking
Insurance
Checking Accounts
Savings Accounts
Credit Cards
Loans
Certificates of Deposit
Mortgages
Home Loans
Investments
Education Savings
Retirement Planning
Financial Planning
Wealth Management
Trust Services
Individual Investments
Stocks
Bonds
Funds
ETFs
IRAs
Education Savings
USAA Discussion
Q: Are these actual banks or atm's

Q: are you only able to with draw money thru an ATM using your USAA Visa debt card

Q: I would like to know how to go about opening 2 checking and 1 savings account please.

Q: Do you have an office close to Jacksonville, Florida?

Q: Is there any usaa branch in new Jersey

Q: where can I fax or email a verification of deposit to verify funds for a home loan?

Q: Where do I mail deposits

Q: HOW CAN I TALK TO A REP ABOUT GETTING INSC

Q: Are there any USAA banks in or around Savannah,Ga or in the State of Georgia

Q: Is there any banks in Tampa area that I can deposit large checks for my USAA account? Mobile deposits have a $10,000 limit and I do not want to mail a large signed check all the way to Texas. Thanks

R: So is there any offices in the Tampa araea ?

Q: Where is usaa bank what city I'm in kent

Q: where is the san diego branch

Q: What are the terms for a business loan? I.e. Importing goods from India to USA

Q: What are your saving account interest rates?

Q: What is the loan interest rate for a second mortgage loan today