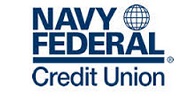 Navy Federal Credit Union
Navy Federal Credit Union
Navy Federal Credit Union or abbreviated NCFU is a major credit union in the United States. It offers typical banking services and savings deposit products including CDs, savings accounts, checking accounts and money market accounts. It was formed in 1933 and has 212* branches worldwide including those in Europe and Asia. In the United States it has locations in 31* states including its biggest presence in California, Virginia, Florida and Maryland. (*NCFU Annual Report 2010)
It is regulated by the NCUA or National Credit Union Administration, an independent federal agency that regulates federal credit unions. As a credit union, similar to the FDIC for banks, its deposits are insured through the National Credit Union Share Insurance Fund (NCUSIF) up to the applicable limit.
While it has branches across many states, it also participates in the CO-OP Network, which is owned by credit unions. Aggregately (as at 2012), it had more than 28,000 ATMs located at retail locations as well as credit unions throughout the United States and Canada.
NCFU has a criteria for membership that is restricted to military personnel and their family members. These include but may not be limited to all Department of Defense uniformed personnel and reservists including current and retirees in Army, Navy, AIr Force and Marine Corps, Department of Defense civilian employees current and retired, DOD Contractors on U.S government installations, DOD officer candidates and Army and Air National Guard Personnel.
Source: http://www.navyfederal.org
Navy Federal Credit Union Services
Personal Banking
Loans
Mortgages
Checking Accounts
Savings Accounts
Money Markets
Certificates
IRAs
Direct Deposits
Credit Cards
Debit Cards
Insurance
Trust Services
Retirement Planning
Education Planning
Individual Investments
Money Markets
Certificates
IRAs
Direct Deposits
Annuities
Mutual Funds
Navy Federal Credit Union Discussion
Q: I would like to open a business account

Q: what is Navy Federal's regular checking account protocol?

Q: What is your interest rate on savings accounts in excess of $10k?
Navy Federal Credit Union Discussion Activity